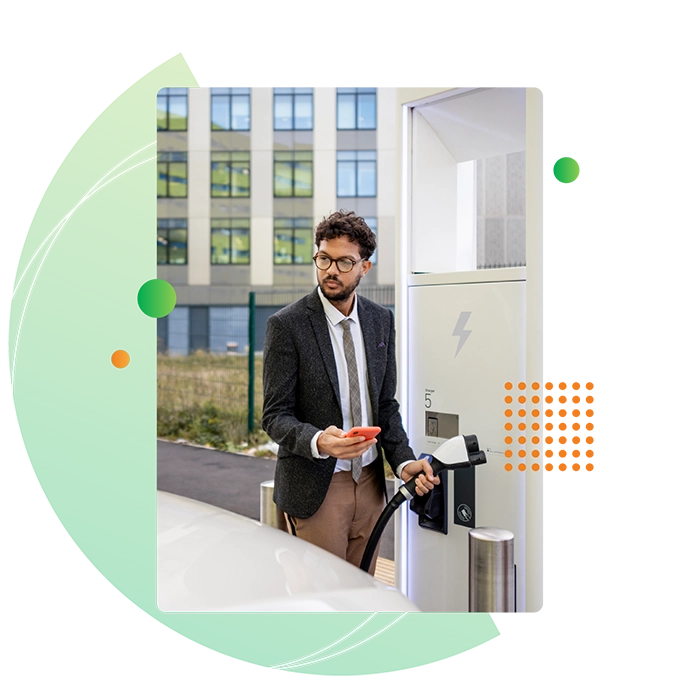 EV CHARGING FOR EMPLOYEES
Support your employees' transition to electric vehicles by installing charge points in your workplace, allowing them to plug in and finish the day with a full battery. Discounted or even free EV charging is an attractive employee perk and a great incentive for your employees to go green.  
When installing EV chargers at your business, you may even be eligible for support with the Workplace Charging Scheme (WCS). 
EV CHARGING FOR CUSTOMERS
Generate a bonus stream of income and promote the adoption of electric travel in the wider community by offering vehicle charging as a new service for customers. This can entice new customers to your business and increase customer dwell time.  
Our EV charge point installation process makes getting your business ready for the future easier than ever.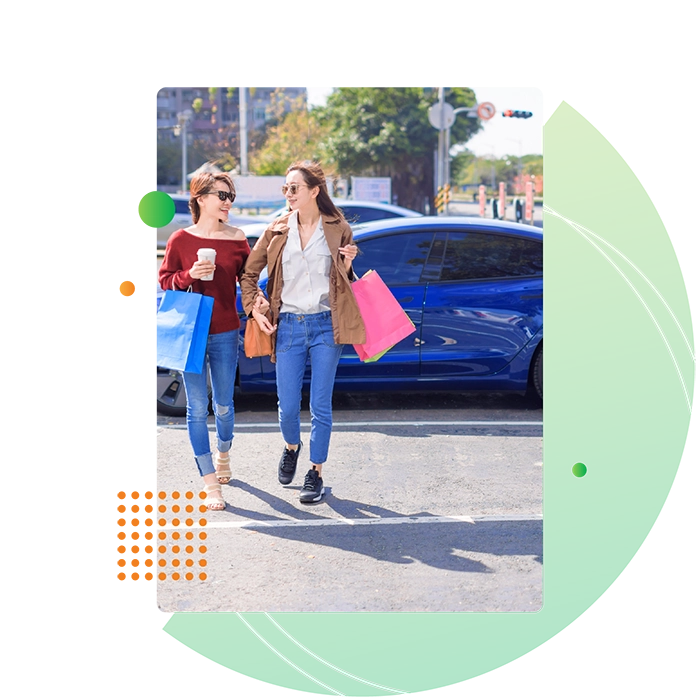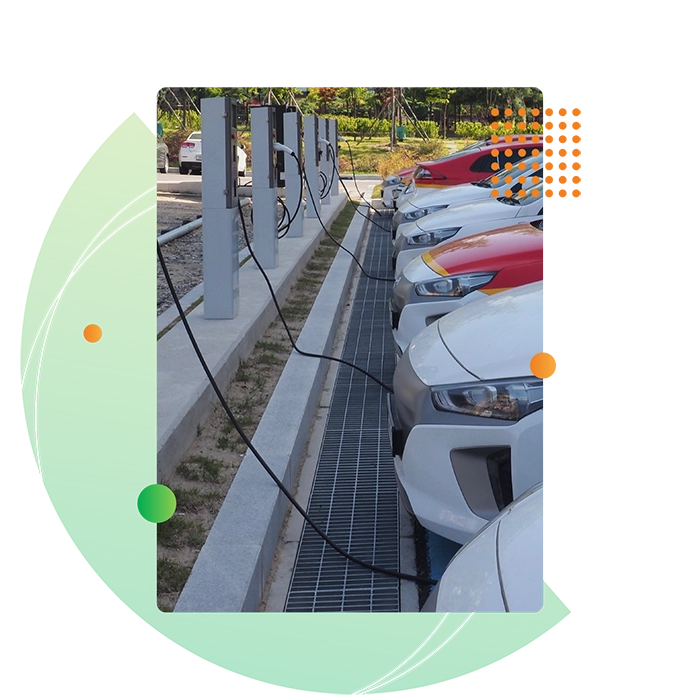 EV CHARGING FOR FLEETS
Take your business a step towards net zero with electric fleet charging. Whether you're a small delivery company or a busy taxi firm, we're here to support you every step of the way, from finding the best solutions, to training and advice. 
EV BUSINESS CHARGER

INSTALLATION

PROCESS
Our simple process and online application form make your EV business charger installation process quick and easy. 
Here's what you can expect from your installation: 
Once completed, our experts will advise of the best charge point for you, and provide you with a quote for your installation.
If you've successfully applied for a government grant, we just need the voucher details so we can incorporate this into your quote.
The engineer will test your EV charging device and explain how everything works, answering any questions you may have.
Throughout the installation the engineer will record all the details of your equipment and setup, including taking photos of key stages of the installation.
You're all set! Once completed, you will be able to contact our aftercare team if you have any questions or issues.
EV BUSINESS INSTALLATION
Yü Charge offer a range of scalable electric car charging solutions to suit your business needs. Whether you're looking for Workplace, Fleet or Commercial charging for electric vehicles, we're here to help. Start your EV journey with Yü Charge today. 
PLANNING YOUR BUSINESS EV CHARGING INSTALLATION
The best EV charger for your business will depend on your unique needs, and what you plan on using your charger for, e.g., EV fleets, customer use etc. To help you make the best decision for your business, we will ask you to complete a survey of your requirements. By filling out our Free EV Review, you'll give us the information needed to provide you with advice and support on the most efficient solutions for your business. 
Once we have a better idea of your business EV charging needs, we can suggest the best fit from our range of hardware and provide an accurate quote for your EV charger installation. The price quoted will include any grant funding that may be available at the time of installation. One of our experienced engineers will then be in touch, to arrange a convenient time to install your brand-new charge point.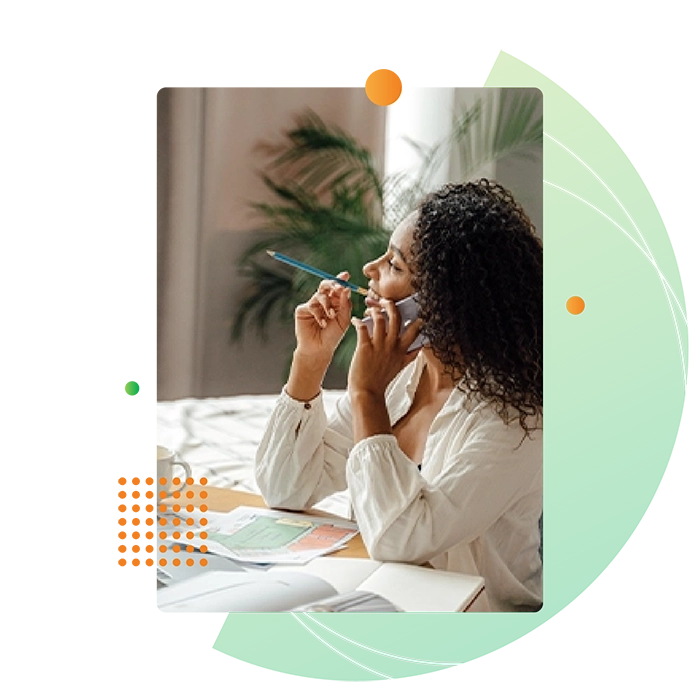 FREQUENTLY ASKED QUESTIONS
ARE EVS GOOD FOR BUSINESSES?
There are many ways in which introducing EVs can be advantageous for your business, whether you want to switch your current company vehicles to electric or offer EV charging to staff and customers. 
Check out our blog on the benefits of EVs for small businesses to find out more. 
WHAT GOVERNMENT GRANTS ARE AVAILABLE FOR BUSINESSES INSTALLING EV CHARGE POINTS?
The UK government are trying to encourage as many people as possible to switch to electric to help meet our 2050 Net Zero targets. 
To help with this, they have introduced a number of incentives and grants to help both business owners and domestic users with the cost of installing charge points on their premises. Check out our government grant guide or use our grant checker tool to see what help you could be eligible for. 
DOES YÜ CHARGE INSTALL EV CHARGERS FOR ALL BUSINESSES?
Yes – we install EV charging for businesses of all sizes, all over the UK. 
We had Josh come out to fit an Ohme charge pod. He was excellent; quick, efficient and friendly. He even swept the floor after himself and changed something that he noticed had been left in an unsafe condition by our electricians. So impressed, would highly recommend.
Great experience from enquiry to fitting. Trishan who we spoke to a number of times, was so good and helpful and his customer service skills were excellent. Our fitter Rob was knowledgeable and extremely able, the fitting took some time and he explained what he was doing at all times. Happy to have him in the house and would readily recommend him and the company. A great experience for us 👍🏻👍🏻
Very happy with the service from YuCharge. They honoured the £300 government grant unlike some other suppliers I talked to and they were better priced than all the others.
Would recommend to any small business in Hampshire.